---
We've recently had a number of news tips sent to ANP by several different readers all focusing on the same subject matter and when that happens, we'll often take that as a sign to do some more research on the topic at hand and write a story about it when we've discovered something sinister at play and all of these shortages, supply chain failures, shipping fiascos and empty shelves indictate America is showing all of the signs of being a country under attack from the inside.
(Article by Stefan Stanford republished from AllNewsPipeline.com)
With supply chain disruptions striking countless products that Americans use regularly, and many believing these supply chain disruptions are deliberate as was reported in this Burning Platform story that ANP reader and story contributor Maria Kneas sent us as a story tip Sunday morning, we have to ask, who among those reading this story could thrive in a long term energy crisis (even if 'manufactured') in the middle of Winter with most Americans completely dependent in one way or another upon natural gas, propane, heating oil, gasoline and other energy products to survive day to day?
With Winter now dead ahead as the cold weather rushes in to some parts of America, check out these recent story titles.:
From the Wall Street Journal: "Natural-Gas Shortage Sets Off Scramble Ahead of Winter"
From the website Energy Wire: "4 ways the energy crisis hits U.S. electricity, gas, EVs"
From Forbes: "Gas Prices Climb, No Relief Before The Holidays"
From CNN Business: "Gas prices skyrocket as the global energy crisis worsens"
From Bloomberg: "Europe's Energy Crisis Is Coming for the Rest of the World, Too"
From Reuters: "Column: Global gas shortage helps lift prices in United States"
From ABC News23 in California: "Southern California gas prices reach the highest in nine years"
From CNBC: "Gas crisis, labor shortages and supply chain chaos: Post-Brexit Britain faces a difficult winter"
From the Washington Post (saved at archive): "Opinion: We're headed for a global energy crisis. What we need is a transition strategy"
Yet while a solid strategy is needed to deal with the energy crisis that is here, America has Joe Biden. So we'll be taking a look at some of those stories and more in the next sections of our story below, fully understanding that staying warm during freezing cold weather is absolutely pertinent to survival and the fact that this Winter, we could be potentially facing simultaneous shortages of oil, natural gas, propane and coal as Michael Snyder warned in this recent story over at the Economic Collapse Blog.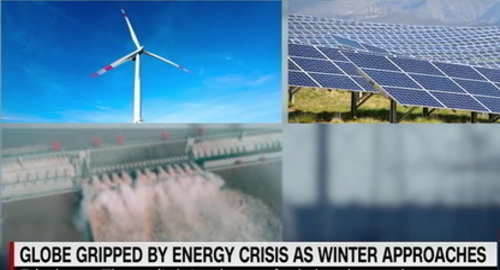 As Michael Snyder had also reported in this October 13th story titled "
As The Global Energy Crisis Explodes, They Are Warning That Heating Bills Will Be Extremely Painful This Winter
", whether we like it or not, 
a major global energy crisis is here, and it is going to hit all of us right in the wallet
. From that story.:
Today, markets for energy are truly global, and that means that price spikes in one part of the planet will inevitably filter elsewhere. For example, a lot of natural gas that is produced in the United States is now heading for Europe, and that is pushing up prices here. 
As energy supplies get tighter and tighter, power bills are going to go higher and higher. In fact, the U.S. government is now warning American citizens to expect heating bills to rise more than 50 percent this winter. Needless to say, a lot of families out there simply cannot afford that.
Global demand for energy is only going to increase in the months ahead. Summer just ended a few weeks ago, and the middle of winter is still months away. So if you think that things are bad now, just wait until we get into early 2022. 
At this point, even CNN is admitting the truth… 
Astronomical increases in natural gas prices. Skyrocketing coal costs. Predictions of $100 oil. 
A global energy crunch caused by weather and a resurgence in demand is getting worse, stirring alarm ahead of the winter, when more energy is needed to light and heat homes. Governments around the world are trying to limit the impact on consumers, but acknowledge they may not be able to prevent bills spiking.
And as Snyder also pointed out in that story, things will only get worse as Joe Biden's 'dark winter' arrives and things start to get really cold, pushing the demand for energy even higher. Also bringing up what would only be the icing on the globalists cake, a collapse of the electrical grid like we saw in Texas for a lengthy period of time last Winter, how would you survive if the grid goes down in your own area for an extended period of time while temps outside are below freezing or even below zero?
With us having a rip-roaring fireplace in the middle of the family room that we spend most of our time in that heats up the entire house, we begin burning wood around here in the middle to end of October when the weather starts to turn cold. Using the fireplace as our primary means of heating our home through the months of late Fall and all of Winter, even into the beginning of Spring, should the grid go down for an extended period of time, at least we'll be able to keep our home somewhat 'warm' should such a worst case scenario of freezing cold weather and the grid down happen at the same time. Once again, from Snyder's story.:
And now this new energy crisis is going to make things even worse. Virtually everything that we buy has to be physically transported, and now shipping stuff around the country is going to become significantly more expensive. 
In my last two books I specifically warned that inflation would spin wildly out of control, and now it is happening right in front of our eyes. 
The experts are telling us that this is going to be a really cold winter, and a lot of American families are going to be forced to make some very difficult choices. 
Many will decide to keep their thermostats uncomfortably low, but as long as the power stays on most of us will make it through the coming months okay. 
The real danger would come if we start having blackouts like other parts of the globe are already experiencing. As we witnessed in Texas last winter, the loss of power for an extended period of time during a cold stretch can have absolutely disastrous consequences.
Read more at: AllNewsPipeline.com